Welcome and thank you for visiting our new Online Business Registration.
We are very pleased to provide you with all the services related registering a business, keeping the business up-to-date and yearly compliance.
I invite you to use all of our services and to explore ways that we can help you grow your trade and investment.
I welcome your valuable suggestions and recommendations to improve our website and our services to better serve you and Cambodia.
PUBLIC NOTICE ANNOUNCEMENT
  សេចក្តីជូនដំណឹង សូមជូនដំណឹងដល់ពាណិជ្ជករទាំងអស់ឲ្យបានជ្រាបថាប្រព័ន្ធទូរស័ព្ទ ០២៣  ៨៦៦ ៤៦០​ ដែលនៅបញ្ជរទំនាក់ទំនងព័ត៌មាននៃការចុះបញ្ជីកំពុងតែជួសជុល ហើយនិងដំណើរការវិញឆាប់ៗខាងមុខនេះ
សេចក្តីជូនដំណឹងស្តីពីនិតិវិធីសម្រាប់ការដាក់ពាក្យចូលរៀនវគ្គបណ្តុះបណ្តាលធ្វើជាអ្នកតំណាងស្របច្បាប់ក្នុងការស្នើសុំចុះបញ្ជីពាណិជ្ជកម្ម (ថ្មី)
សេចក្តីជូនដំណឹងស្តីពីវគ្គបណ្តុះបណ្តាលធ្វើជាអ្នកតំណាងស្របច្បាប់ក្នុងការស្នើសុំចុះបញ្ជីពាណិជ្ជកម្ម និង ពាក្យសុំចូលរៀន
ប្រកាសស្តីពីការបន្តការចុះបញ្ជីសារឡើងវិញតាមប្រព័ន្ធស្វ័យប្រវត្តកម្ម លេខ ២៨១ ចុះថ្ងៃទី២២ ខែមករា ឆ្នាំ២០១៨
ប្រកាសរួមលេខ១២១៧ សហវ ប្រក ចុះថ្ងៃទី២៧ ខែវិច្ឆិកា ឆ្នាំ២០១៧ ស្តីពីការផ្តល់សេវាសាធារណៈរបស់ ក្រសួងពាណិជ្ជកម្ម (ថ្មី)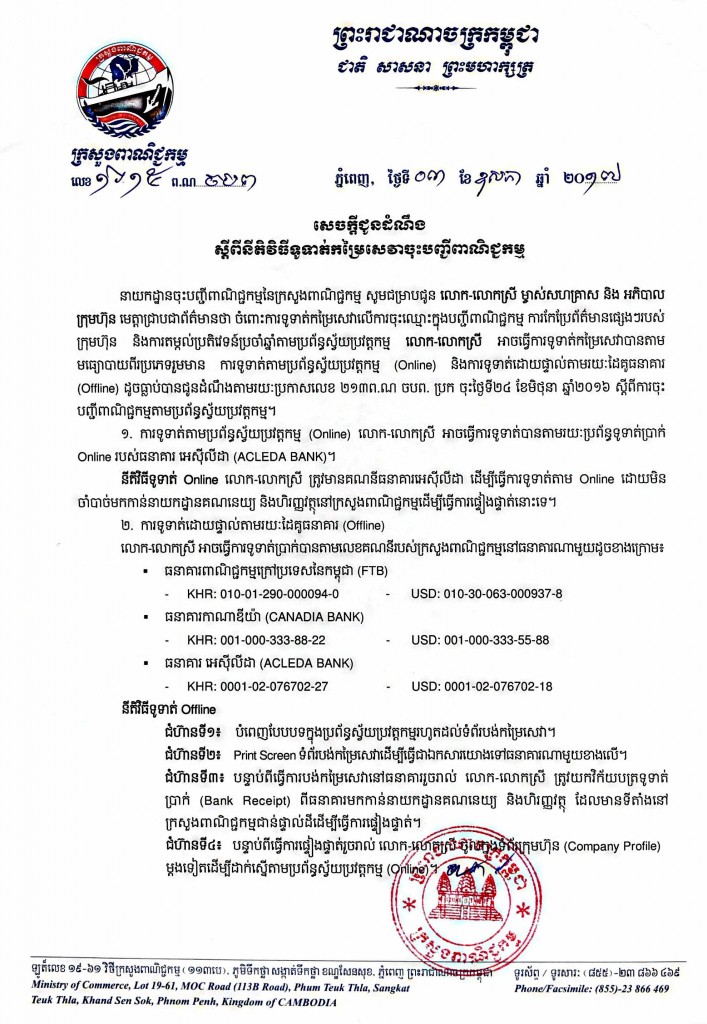 The payment is made ONLINE.
If you opt to pay off-line, please pay to the Ministry of Commerce bank account as bellow:
FOREIGN TRADE BANK (FTB)
KHR: 010-01-290-000094-0
USD: 010-30-063-000937-8
CANADIA BANK
KHR: 001-000-333-88-22
USD:001-000-333-55-88
ACELEDA BANK
KHR: 0001-02-076702-27
USD: 0001-02-076702-18
Note: After you made a payment at the bank, with the bank slip, please come to Ministry of Commerce (Administration and Finance Department, second building, the Ground Floor) for your payment to be approved by the finance officer first before you can submit your online application later.
For more information, please contact Business Registration Department of Ministry of Commerce located at Lot 19-61, MOC Road (113B Road), turn in from Russian Blvd, Phum Teuk Thla, Sangkat Teuk Thla, Khan Sen Sok, Phnom Penh, Kingdom of Cambodia or call to BR hotline: 
– 023 866 459 (ប្រតិវេទន៍)
– 023 866 460 (បញ្ជរទទួលពាក្យ នៃការិយាល័យព័ត៌មាន និងទំនាក់ទំនងសាធារណៈ)
– 023 866 050 (ឯកសារយឺតយ៉ាវ ករណីបន្ទាន់ខ្លាំង)
Please go to tradesupport.moc.gov.kh for our online support.
សូម Download បែបបទប្រតិវេទន៍ នៅទីនេះ